The National Leadership Foundation is pleased to have a few of our artifacts on loan while they are featured in an exhibit at the Petaluma Historical Library and Museum in Petaluma, California May 3 – July 26, 2015.
The exhibit it titled, "PASS IN REVIEW – A TRIBUTE TO AMERICA'S VETERANS"
This exhibit is about the men and women who have served in our military. Their triumphs in battle and for some, the fight to heal themselves of the psychological and emotional scars that are left behind when the military battles are over. The exhibit will include art created by veterans as a means of healing themselves from war related mental health challenges and veterans who paint, take pictures or sculpture for fun.
Our "on loan" artifacts are being seen as part of an exhibit put together by a young man named Will Twomey, who shares our passion for collecting historic items.  His foundation is called Petaluma International Military Research Center. For more information, please visit pimrc.com

Medal of Honor recipients memorialized
October 31, 2014 | Betty Dillard | FW Business Press
Three fallen Fort Worth military members – one who went down with his bomber during World War II, one fatally wounded by mortar fire during the Korean War, and one who threw himself on a grenade to save his fellow soldiers in Vietnam – have received a lasting tribute from both citizens and the city through a public-private partnership.
The three – Maj. Horace S. Carswell, Cpl. Charles F. Pendleton and Spc. 4 Robert D. Law – are recipients of the Medal of Honor, the highest military decoration presented by the United States government to a member of its armed forces. Recipients must have distinguished themselves for valor in action at the risk of their own life against an enemy force. The president, in the name of Congress, has awarded 3,465 Medals of Honor since the decoration's creation in 1861.
For the first time, Fort Worth's three Medal of Honor recipients are being memorialized in an 8,000-pound red granite monument at Veterans Memorial Park located at 4120 Camp Bowie Blvd. in Fort Worth. (more…)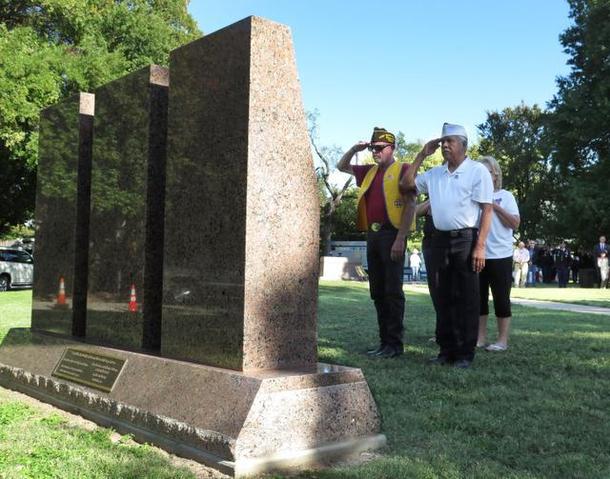 By Elliot Goldman
Special to the Star-Telegram
Last month, the National Leadership Foundation rallied the Fort Worth community to raise awareness for a new monument built in Fort Worth's Veterans Memorial Park.
The 8,000-pound red granite obelisk is a memorial for three brave men who made the ultimate sacrifice in the line of duty. It is also the first time two of the men have been publicly recognized for their sacrifice and achievement on a local level.
Fort Worth residents Maj. Horace S. Carswell, Cpl. Charles F. Pendleton and Sp4c. Robert D. Law served in three separate wars but had one thing in common: They demonstrated extraordinary courage, steadfast devotion and profound concern for their fellow soldiers and were posthumously awarded our nation's highest military honor, the Congressional Medal of Honor.
Carswell, a B-4 bomber pilot, was killed after piloting his crew to safety during WWII.
Pendleton, a machine gunner with the U.S. Army during the Korean War, refused evacuation from a perilous post and continued defense of his comrades until he was mortally wounded by a mortar burst. (more…)