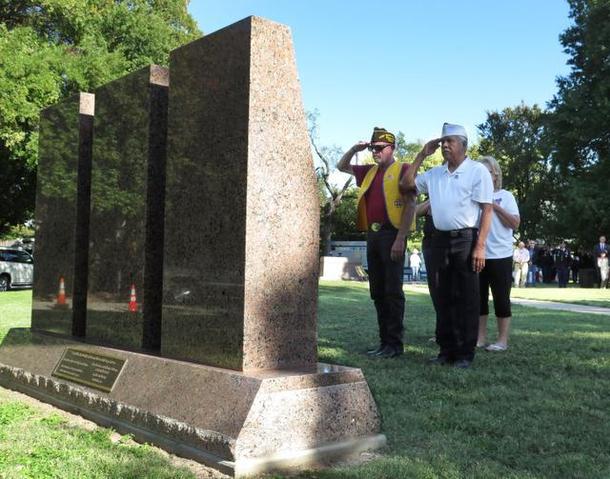 Find ways to honor fallen soldiers
By Elliot Goldman
Special to the Star-Telegram
Last month, the National Leadership Foundation rallied the Fort Worth community to raise awareness for a new monument built in Fort Worth's Veterans Memorial Park.
The 8,000-pound red granite obelisk is a memorial for three brave men who made the ultimate sacrifice in the line of duty. It is also the first time two of the men have been publicly recognized for their sacrifice and achievement on a local level.
Fort Worth residents Maj. Horace S. Carswell, Cpl. Charles F. Pendleton and Sp4c. Robert D. Law served in three separate wars but had one thing in common: They demonstrated extraordinary courage, steadfast devotion and profound concern for their fellow soldiers and were posthumously awarded our nation's highest military honor, the Congressional Medal of Honor.
Carswell, a B-4 bomber pilot, was killed after piloting his crew to safety during WWII.
Pendleton, a machine gunner with the U.S. Army during the Korean War, refused evacuation from a perilous post and continued defense of his comrades until he was mortally wounded by a mortar burst.
Law served with the U.S. Army during the Vietnam War and threw himself on an enemy grenade to save the lives of his friends and comrades.
The valiant courage and sacrifice by these three men is a stunning representation of the thousands of service men and women who risk their lives every day so all can live free.
Were it not for their willingness to go into harm's way to protect us, we would not have the lives we enjoy today.
Military Times reports that 24 Fort Worth residents have been killed in action in Afghanistan and Iraq.
They include Chief Petty Officer (SEAL) Stephen M. Mills, Pfc. Benjamen G. Chisholm, 1st Class Sean L. Caughman, Sgt. Dustin S. Wakeman, Cpl. Rhett A. Butler, Master Sgt. Kenneth N. Mack, Spc. Lance C. Springer II, Spc. Marieo Guerrero, Sgt. First Class Allen Mosteiro, Staff Sgt. Brian L. Mintzlaff, Sgt. 1st Class William R. Brown, Staff Sgt. Eric Caban, Cpl. Jason B. Daniel, Cpl. Richard P. Waller, Capt. Anthony R. Garcia, Spc. Hatim S. Kathiria, Spc. Francisco G. Martinez, Sgt. Daniel Torres, Lance Cpl. Saeed Jafarkhani-Torshizi Jr., Sgt. Foster L. Harrington, Pfc. Ervin Dervishi, Master Sgt. Kelly L. Hornbeck, Chief Warrant Officer 4 Clarence E. Boone, and Cpl. Jesus Antonio Medellin.
These soldiers gave their lives for our freedom and the Fort Worth community should recognize and honor that sacrifice.
As a community, we should consider how we can pay tribute to each of these fallen soldiers.
Developers in the city should consider naming streets in their new projects after these men. The city should consider naming facility areas or buildings after these heroes.
ROTC cadets at Fort Worth high schools can encourage the FWISD to recognize the veterans at their alma maters.
Fort Worth's strong arts community can use its talents to create art commemorating these heroes.
Everyone can do his or her part.
This new monument is an important first step, and it will continue to serve as a thank-you from the Fort Worth community.
But we should not be satisfied until we have paid tribute to each and every one of our city's fallen soldiers.
Take a moment to visit our city's newest monument at Veterans Memorial Park, off of Camp Bowie Boulevard and Crestline Road in Fort Worth.
Say a silent thank you to three courageous Medal of Honor recipients who will always be remembered as hometown heroes, and think about how you can help honor others who have served and are serving this great nation.
Elliot Goldman of Westover Hills is chairman of the National Leadership Foundation.
Read more here: http://www.star-telegram.com/2014/11/10/6277311/find-ways-to-honor-fallen-soldiers.html?rh=1#storylink=cpy